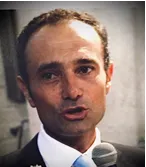 ROBERTO BARATTOLO
National Sales Director
Theramex
Graduated in Pharmaceutical Chemistry and Technology, my experience developed in sales, market access and sales & marketing departments of multinational companies operating in pharmaceutical, bio-tech sector and medical devices, have covered roles of increasing responsibility starting as a medical sales representative until managing different Team in Sales, Sales and Marketing, Business Development, Key Account Management at National level.
My leadership style is based on inclusion and social understanding, with a strong ability to influence and guide different teams based on data, analyses, and inspiration (emotional intelligence). During my experience as a people's manager, have built several different work teams (Amgen, BD & Mundipharma, Theramex) and in 2008 have overseen the merger between Amgen and Dompè Biotec in 2016 between Carefusion and BD. In the latest experience I managed a strong transformation in terms of mindset, go to market.
My business's approach is systemic, having excellent strategic and long/term planning vision, which had the opportunity to develop while working and delivering in Sales, Market Access and Marketing. 
I have matured solid competences in all the phases of the selling process, from the Business Development and pre-marketing stage (involving the registration of medical products in the different national and regional Therapeutic Handbooks) to the negotiations with the private/public counterparts and finally the sale of the end product.       
I'm able to build effective relationship with all types of clients on national, regional or hospital level: clinicians, wholesalers, pharmacists, procurement, representatives of Scientific, representatives of public authorities and decision makers in the health care sector.
In my different professional experiences, I have successfully taken part indifferent international projects, playing an active role in the development of new capabilities for my Company and acquiring new personal professional skills.
Corsi correlati
Scopri i percorsi associati a questo docente